Hello everyone,
I'm unable to login into my kdbx file. I know I'm using the right password, because when I insert a wrong one I get the specific error that password is wrong.
However when inserting correct password the following error message shows up: "Unknown error while trying to open file. Invalid arguments(s): Invalid or corrupted pad block."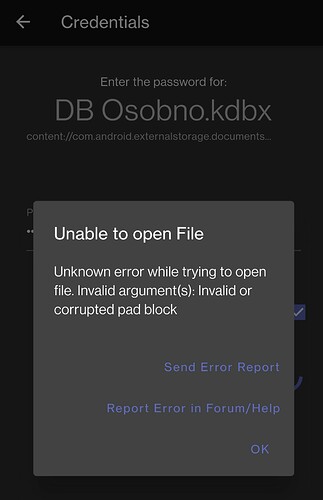 I can't send the Error report because nothing happens when clicking on it and the only option left is to ask help here.
I read in a similar topic to try and access it using the AuthPass Dev app, but that didn't help also.
I tried also to delete app cache and reinstall it, still nothing helped.
I'm on Android 11, Oxygen OS 11.1.5.5.AC01BA.
Could you please help me out here?